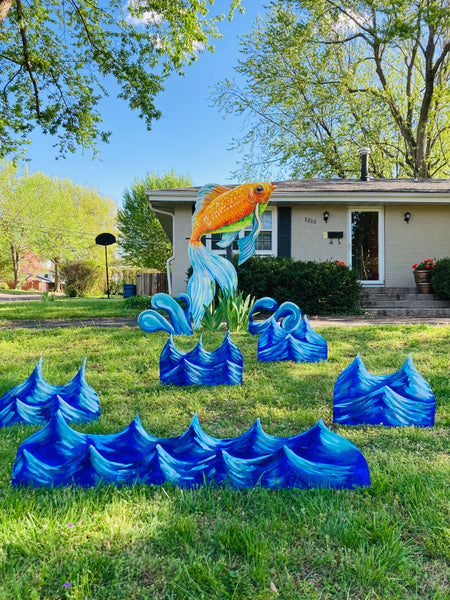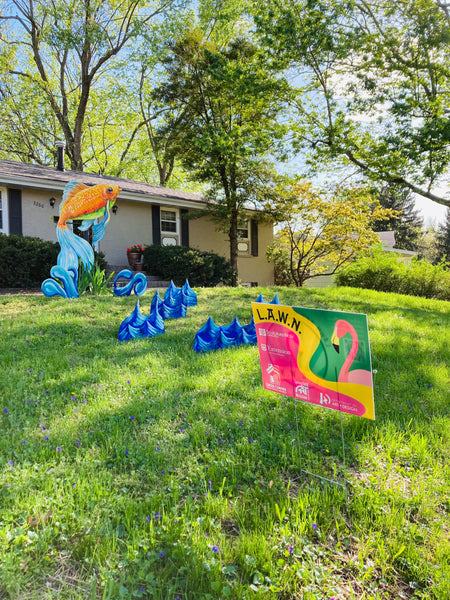 Above the Waves - 2023 LAWN Painting Installation
Janelle and Jay Patterson with Amber Dougan
Above the Waves-Our fish is enjoying his time in the sunlight showing off his colors and sparkles.  While his position above the water took a great deal of energy to achieve, it was worth the effort to rise above the surface of the water and out of his regular environment beneath the waves. 
We hope our fish can serve as an inspiration to rise above the waves of fear, self doubt, or the voices of others which may be keeping you from jumping up and reaching for your dreams.  Whether those dreams are large or small, the world needs to see you soaking up the sunlight and achieving the goals you've set to make a positive splash in your community.   
About L.A.W.N.

L.A.W.N. is a city-wide public art exhibition made for front lawns by community members located in the greater Springfield, Missouri area. Created as a grassroots project focused on connecting our vibrant community, L.A.W.N. seeks to empower public art made by the people as a contribution to Springfield and the greater Greene County area's sense of place and the built environment we all share. 
Learn more and find other L.A.W.N. installation sites

About the Artist

Janelle Patterson is the owner of Janelle Patterson Art located in Springfield, Missouri. 
She's been working as a professional artist for 10 years and absolutely loves her work.  
After completing her Bachelor's and Master's Degrees in Art Education at the University of Missouri-Columbia, Janelle moved to southwest Missouri and taught high school and elementary art before pursuing art full time. 
Janelle specializes in painting bold, colorful subjects on both canvas and functional glassware and loves new opportunities to create.